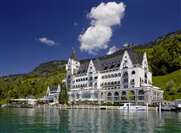 Both of Park Hotel Vitznau's restaurants boast an incredibly high standard of cuisine.
The two restaurants, Focus and Prisma, as well as the unique Verlinde Bar & Relais Gourmand, showcase exclusive dishes set against breathtaking views from the lake terrace.
Match this with perfect wine pairings and exquisite rarities from six exclusive wine cellars.
With its 180-degree panoramic views, Prisma's glass pavilion opens up a unique perspective on the picture-postcard Swiss lake and mountain vistas.
Philip Heid's creations are rooted in European culinary tradition, inspired by far-Eastern ingredients and preparation methods.
On the approach to Focus, guests glide past a series of glass-walled wine cellars before entering another world.
Inspired by water, nature and the views across the lake towards the mountains of central Switzerland, the contemporary interior design owes its distinctive appearance to the use of high-quality materials and warm colors.
Head Chef Patrick Mahler —former Chef de Cuisine at Michelin-starred restaurant Prisma (16 Gault Millau points)—and his team create gourmet cosmopolitan cuisine.
Driven by lightness and creativity, they transform seasonal produce from all over the world into unique, colorful creations.
Here, a distinctive identity and the flavour of the finished products form the clear focus.