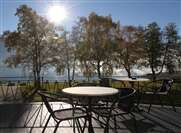 Jan-Bruse Andersen carved out this legendary cellar in the heart of Norway over 30 years ago.
Today, his tradition is carried on by Francesco Marzola, wine director of Park Hotel Vossevangen and 'Best Sommelier of the Nordics' 2018.
While the cellar is filled with wines from all over the world, the restaurant and café offer a variety of dishes from local Norwegian delicacies to down-home burgers.
The massive selection of wines available by the glass means that guests can always find a perfect match.
If not, the enthusiastic crew is always available to advise and even tour the cellar as well.