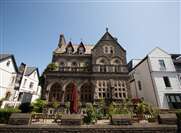 Alongside its appetizing cuisine, Park House Restaurant boasts a sophisticated, yet accessible, wine list.
With over 80 wines to choose from, Park House shares its passion for wine by offering delectable choices at economic rates.
Thus, it exemplifies its ethos that wine should be enjoyed by everyone.
Furthermore, it celebrates its extensive collection through its inclusive wine dinners and lunches.
It adds a dash of intimacy by inviting wine makers to host these events.
While Park House delivers affordable wines, it does so without sacrificing quality.
In fact, its list has a section called 'Iconic and Rare Wines by the Glass'.
As the title suggests, enthusiasts can sample unique vintages 'off the beaten palate'.
Additionally, the list features a rich selection of international producers whose contributions thrill the taste buds and the imagination.
A New Zealand Marlborough Sauvignon Blanc entices the palate with complex yet balanced undertones of blackcurrant leaf and passionfruit.
Alternatively, a Chilean Pinot Noir Reserva playfully presents expansive influences of berries, and mineral hints.
Wine drinkers will be eager and spoiled for choice at Park House's diverse, international, and local expressions.