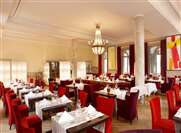 The five-star Park Weggis Hotel resort and spa on Switzerland's Lake Lucerne has what The World's Best Wine Lists senior judge, Andrew Jefford, called "a genuinely impressive list" that would put it near the top of any ranking of Europe's finest wine cellars.
Running to more than 2,600 bins, it's a presentation that's strong on the classics and the critically acclaimed, with verticals of the big guns of Bordeaux, Burgundy, and Italy. But while there is, as Jefford said, "an emphasis on trophy wines and Parker picks" (the great man's scores dutifully filled in by the prices), the Park Weggis list doesn't always take the obvious, classically European path. Australia is well represented by the likes of Clarendon Hills, Henschke, Penfolds, and Torbreck, and there are many verticals from top Californians such as Colgin, Diamond Creek, Harlan, and Ridge.
Then there is what Jefford called a "great Swiss selection," which spans the country's different regions, and adds a strong local flavor to a great international list.