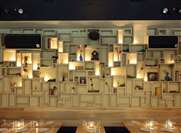 World's Best Wine Lists Jury Prize
Based in New York's Bowery House hotel, Pearl & Ash features an array of innovative small-plate cooking by chef Richard Kuo. Moving from "Raw" (tea-cured salmon, goat cheese, tamarind, seaweed) to "Meat" (duck, rhubarb, turnip), the menu is deceptively simple and refined. But the real star here, at least for the World's Best Wine Lists judges, is the wine.
"Since it opened in February [2013], the restaurant has become the city's most exciting place to drink wine," said . And the list, put together by wine director Patrick Cappiello, is indeed a concise marvel, praised by our judges not only for the diversity and maturity of its selections (there are a number of older vintages), but for its fair approach to pricing.
This is very much a wine list of its time and place. The accent is on small-scale producers and natural wine, with extensive picks from the Loire, the Jura, grower Champagne, and the "new" elegant California, alongside a truly remarkable collection of reasonably priced mature Burgundy and Bordeaux.
Funky, fun, and full of personality, it's a list that had our judges salivating—and awarding a Jury Prize for the insouciant way it captures the current vinous zeitgeist. "I think what's most impressive is the way it's able to encapsulate in a very short number of choices what's going on at the cutting edge of wine," said senior judge Elin McCoy.