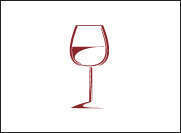 Marco Sazzo's magnificently inventive, two Michelin-starred modern Italian cuisine has been drawing food-lovers to Verbiana by the "small lake" Lago Mergozzo for many years now.
Sazzo's signature dishes include Alp Morasco Bettelmatt cheese flan, candied pears in light syrup with hot mustard and spiced mountain blueberry; and a dish named 3C of Carnaroli rice, cotechino sausage, and chinotto, although the quintessential Piccolo Lago experience is all about the five-, eight-, or 11-course tasting menus.
Those dishes are accompanied by one of the finest wine lists in Italy, a list that offers a detailed survey of the modern and classical Italian vinous scene, presented alongside a cosmopolitan collection of fine wines from all over the world.
While never feeling unwieldy, there is space, at Piccolo Lago, for Slovenia's Marjan Simcic as well as a stellar collection of Barolo arranged by cru; and there is room for Château Haut-Brion and Jurançon's Domaine Cauhape alongside Sassicaia and Cave du Vin Blanc Blanc de Morgex et de la Salle.