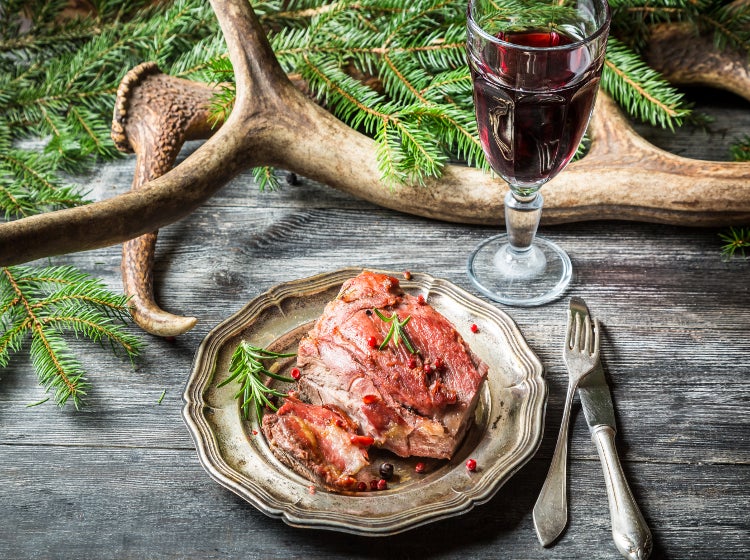 A great Pinot Noir should have a "long, intense and seducing finish." Basso stresses that great attention must be given when matching a food and Pinot Noir, as "only people with great sensory sensibility can understand and appreciate the finesse of Pinot Noir."
1. If you're opting for a mature Pinot Noir choose a dish that is traditional, hearty and equally flavoursome. Game meats are a great match to aged Pinot Noir's as they share the earthy flavours of the wine, so look at vintage red Burgundy's for something suitable.
2. Game dishes are often topped with a sauce of intense richness or flavour, and would be further enhanced with a very mature oak-aged Pinot Noit. Dishes to go with this type of wine could be roasted quail with foie gras sauce or guinea fowl sprinkled with black truffle.
2. Drinking a young and fruity Pinot Noir? Then you can pick from many different foods to pair with it. Pair a Pinot Noir from Oregon with a creamy Italian mushroom risotto.
3. Pair a sweet and youthful Pinot Noir from Martinborough in New Zealand with French jambon persillé – a classic French ham terrine with parsley. The wine's red fruit flavours really complement the salty pork.
4. Japanese Shabu Shabu beef – a dish of finely sliced beef quick-cooked in boiling water and served with a side dipping sauce – works remarkably well with a youthful Pinot Noir from Carneros in California. The Shabu Shabu beef dish is generally quite savoury so a sweeter style of Pinot Noir enhances the food.