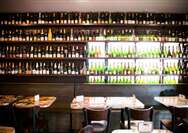 Pix Pâtisserie offers a wine list with a focus on small producers that push the boundaries to make exciting and exceptional wine.
Over the past year they have acquired several single vineyard Champagnes, indeed, the selection was hailed as "unique and intriguing" by our international judging panel.
These wines offer a singular experience to taste the different terroirs in the Champagne region, which in the past were almost always blended away.
The wine list showcases about 1,200 selections, including over 600 Champagnes in formats ranging from demi bottles to methuselahs; a remarkable range of over 170 sherries; and a notable collection of dessert wines, including madeiras dating back to 1907.
Their approach has always been to create a list that is accessible and affordable.
Customers can enjoy a great glass and have an opportunity to try something new and unique to them, whatever their price range.
The full disclosure information is enlightening, featuring disgorgement dates on Champagnes and bottling dates on sherries, ports and madeiras where possible.
Pix Pâtisserie is a casual dining space with a focus on French desserts.
Their sister establishment, Bar Vivant shares the same space and brings the savory in the form of Spanish pintxos, as well as a selection of some of the best conservas from Spain.
Pix is unparalleled in its World's Best Wine Lists awards success, having been named Best Champagne & Sparkling Wine List in the World six times: every year since the competition's 2014 inception.