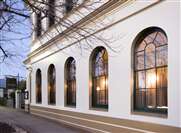 As the name of the restaurant suggests, chef Michael Ryan's kitchen at Provenance restaurant in the old Bank of Australasia premises in Beechworth, Victoria, sets great store by the sourcing of quality ingredients.
It's a philosophy that Provenance describes as "regional contemporary," a description that is a good fit for a menu featuring such alluring dishes as braised Myrrhee goat, white gazpacho, charred cucumber, pickled grapes, ricotta, and olive crumb; or Chatham Island cod, shiso kimichi, pickled pear, and apple.
And it's a philosophy that carries over to the wine list, one of the best in Australia, and one that is filled with asterisks indicating local, North East Victorian wineries, from Domenica Marsanne, Beechworth to Pizzini Coronamento Nebbiolo, King Valley.
On a beautifully designed list that is clearly arranged by grape variety, these local heroes are joined by a fine selection from the scarcely less local Victorian appellations of Mornington Peninsula and the Yarra Valley, complemented by an imaginative selection of top European producers.