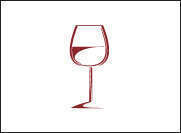 The city of Melbourne is a melting pot for laneway dining, and Punch Lane has been in the heart of it all since its doors opened in Melbourne's entertainment district on Little Bourke Street in 1995, capturing crowds from the theatre, wine enthusiasts and more.
Head chef Giselle Saffigna focuses on executing a seasonal menu to pair with the extensive wine list, which judges of the World's Best Wine Lists 2017 commented include a, "Good spirit list" and overall satisfies every palate and pocket. Dotted throughout the wine menu are quotes and helpful notes, keeping the atmosphere playful but informative.
Punch Lane's by-the-glass wine list is ever-changing, driven by the wine team's new discoveries and wine styles uncovered. Other formats are available, including a notable half bottle selection which includes producers like Domaine Blain-Gagnard, William Downie, Domaine La Suffrene, and Underwood, for example. The list is designed to include an excellent selection of varieties from classic, noble regions around the world, and aims to represent the different expressions of terroir between regions in the old and new world.