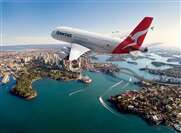 Perhaps the clearest winner in any of the categories in the World's Best Wine Lists awards, Qantas romped home in the voting for the Best Airline Wine List in the World.
"It is a very obvious winner," said Neil Beckett, editor of The World of Fine Wine and chairman of the judges at the World's Best Wine Lists awards. "It really has gone much further than any of the other airlines we have seen. An excellent selection, and very nicely presented, too."
The depth of range in Qantas First and Business Class is perhaps the most immediately obvious attribute separating Qantas from its peers. But the depth of choice is matched by quality. Specializing in Australia, it offers a compilation of many of the country's best producers, from Cape Mentelle, Cullen, and Coldstream Hills to Yabby Lake and Yarra Yering, and including rising stars such as Mac Forbes and SC Pannell.
With a fine selection of mature Vintage Champagne (2000 Pol Roger Cuvée Winston Churchill and Taittinger Comtes de Champagne), and a handful of interesting New Zealanders, also on hand, the Qantas range would be attractive enough in a conventional restaurant, let alone one in the sky.