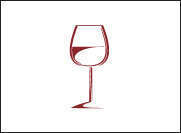 The wine list at the highly acclaimed Rasika, which has two outlets in Washington DC, may not be long. But the judges at the World's Best Wine Lists 2015 were deeply impressed by the variety and interest it packs into its concise frame—and by the way those wines have been chosen to complement the modern Indian menu.
As is often the case in Asian restaurants, Riesling, a variety that works so well with the spice of Indian cuisine, has a star billing. Unusually, however, Rasika has gone to the trouble of arranging its collection of Alsace, Australian, Austrian, German, New Zealand, and North American Riesling by sweetness, featuring a sweetness gauge for each category from bone-dry (Dry River Armanath from Martinborough New Zealand) to dry (Cave Spring Winery CSV from Beamsville Bench in Canada) to off-dry (Dönnhoff Estate QbA from Nahe Germany).
The rest of the list is similarly cosmopolitan, as it ranges from Campanian Fiano to white and red Californian Rhône Rangers, offering numerous matching possibilies for chef Vikram Sunderam's inventive spicy cuisine.