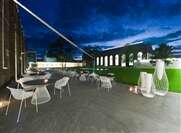 There's a strong modern Spanish influence on the menu at Mannheim's Restaurant Amador. And dishes such as "Mar y Montaña," with its blend of goose liver, beetroot, and langoustine; or pulpo gallego (octopus) with potato, pimentón, and leek, are given the chance to shine in context with one of the best selections of Spanish wines outside the Iberian peninsula.
The list is all embracing, touching on an impressive number of Spain's regional denominations (Lanzarote and Mallorca as well as Rioja and Ribera del Duero), and including a clutch of rare older vintages (such as a magnum of Vega Sicilia Único 1976), alongside a range of affordable choices. Cava, too, is given its due, from Juve y Camps to Agustí Torelló Mata.
The Spanish wines are complemented by a pithy but punchy pick of German bottles, including a run of fine Auslesen, TBA, and Eiswein, on a list that accurately reflects what senior judge at the World's Best Wine Lists awards, Andrew Jefford, called the restaurant's "Hispano-Teutonic" flavor.