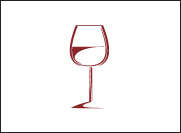 Based in the eponymous hotel in Ascot, part of the Dorchester Collection, the Restaurant Coworth Park offers a gently modern, impeccably presented spin on British cooking.
Drawing on ingredients from local suppliers, dishes include loin of venison with celeriac, pearl barley, and pine or roasted turbot, mashed potatoes, caramelized bacon, mushrooms, and red wine sauce.
The short but very well-chosen and clearly presented wine list matches the food menu with a selection that features both the classical and the new-wave, and manages to cover a large amount of vinous ground in its few dozen bins. The judges at the World's Best Wine Lists 2015 were particularly taken with the imaginative headings, where wines are grouped by styles such as "robust and full-bodied" (Henschke Kennyneton Euphonium Shiraz Cabernet Merlot 2010; Dominio de Pingus PSI 2010) or "oaky and rich" (Waterkloof Circle of Life 2010; Domaine Michelot Mersault 2010).