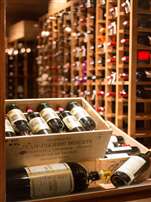 Encyclopedic doesn't begin to describe the wine list at Restaurant Latour in the Crystal Springs Resort in New Jersey. The cellar here comprises an almost incomprehensible 9,100 different labels, and more than 135,000 bottles, many if not most of them bearing the names of the world's most sought-after producers.
Perhaps aware that the collection it has amassed might be just a little intimidating to many of its customers (the white wine list alone runs to 140 pages; the red a further 220 pages) the wine team at Latour has taken steps to accommodate the casual diner with a more focused "Sommelier's List" of good value bottles, (such as Château Guiraud G de Guiraud dry white Bordeaux at $50) and intriguing by-the-glass offerings from top producers such as Argentina's Catena and Australia's Torbreck.
But the real fun at Latour lies in exploring that astonishing collection of fine classic wines, including the inevitable, but still remarkable selection from the restaurant's namesake Bordeaux château: a near-complete run of 20th-century vintages, and bottles dating back to 1863.