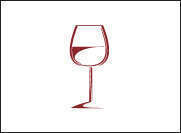 Superb ingredients, perfectly cooked and presented is the raison d'être of Copenhagen's Relae. Or, as the restaurant's website puts it: "Focused and tasty food, no muss, no fuss."
It's a philosophy that extends to the wine list, which features a roll call of top names from the natural, organic, and biodynamic winemaking scene.
And as a presentation of what they called "the current natural zeitgeist," the judges at the World's Best Wine Lists 2015 thought Relae was "hard to beat."
The Loire, one of the hotbeds of the natural wine scene, is particularly well represented, with a multiple vintages and cuvees from the likes of Sebastien Riffault in Sancerre and Jean-Pierre Robinot in Jasnières, while the leading lights of the Friuli orange wine scene—Dario Princic and Radikon—are also well represented.
With a fine selection from eastern France (Jura and Savoie as well as Burgundy, Beaujolais, and the Rhône), and with choices from across Italy, Spain, and Austria, the Relae list is a natural star.