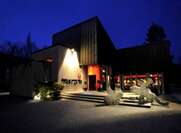 Tantris opened in 1971 and was one of the first fine dining restaurants in all of Germany.
Later on it became the first three Michelin-star restaurant in the country.
They are a fine dining restaurant which has managed to survive 45 years without giving up on their roots and traditions.
Besides serving traditional food, they also offer one of the most exciting wine programs in the country.
By maintaining good relationships with a lot of wine makers throughout the years, they are able to receive many exclusive wines directly from the producers.
Furthermore, they offer three different wine pairings each night, plus very exclusive wines by the glass using the Coravin system.
All in all this makes the wine program one of the most challenging and one of the most exciting programs at the same time, offering something for every taste and every customer need.