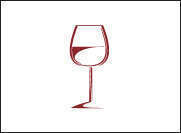 The phenomenal German fish and game dishes prepared by chef Kolja Kleeberg have earned him endless praise and awards. Daring combinations include Ente mit gezupftem Rotkohl, Quitten, und Maronen (duck with selected red cabbage, quinces, and sweet chestnuts) and Steinbutt mit Kalbbries auf Rotweinschalotten (turbot with veal sweetbread on shallots in red wine).
The boutique restaurant is respected for its refreshing decor, creative cuisine, and extensive wine list.
Guests can choose for wine pairings, head sommelier Thomas Thielecke carefully pair dishes, with each wine selection matching and enhancing each delicious course. Thielecke and the sommelier team are available to guide customers with each wine choice.
The wine service is among the most impressive soars above most in Germany and Alsace. With many German wines and some from across the world, some wines in the restaurant have the VAU name on them, especially produced for the restaurant.