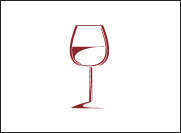 For years, the eatery has worked with the best producers that give the local cuisine its name alongside its well-stocked wine cellar. 
This wine restaurant shares a great passion with its customers: a love of fine cuisine and excellent wines and offers a selection of grapes from around the world with an attractive wine list.
Besides well known names, the restaurant attaches great importance to native brands, exciting discoveries and exquisite rarities, with an exclusive selection too.
The restaurant has won numerous accolades, with a "Best of Award of Excellence" award from Wine Spectator, in addition to Robert Parker's "Wine Advocate", part of the "Wine Spectator".
For guests needing direction, sommeliers offer their expertise on the best wine selections.