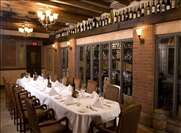 The proud holder of the Guinness World Record for the "largest winekeeper/Cruvinet system in the world," Philadelphia's Ristorante Panorama is also justifiably proud of the contents of its piece of bar kit. Our judges, too, were hugely impressed, giving Panorama a place on the shortlist for the Best By-the-Glass Wine List in North America.
As senior judge Andrew Jefford put it, "you just have to reward that kind of endeavor." Jefford was referring to the creativity on show, most notably, perhaps, in the range of flights: four or five 1.5oz servings served side by side to enable customers to explore different styles, regions, and grape varieties with themes such as "Expressions" (four Sauvignon Blancs), or "Southern Stars" (Wines from Argentina, Australia, Chile, and South Africa).
If that feels a little didactic (and it's true, as fellow senior judge, Ch'ng Poh Tiong says, that "not all of us go to restaurants to 'taste;' we want to drink!"), customers can always choose from the main list, where everything is available by the 3oz or 5oz glass as well as bottle. And, with a funky, modern and truly global range of wines to choose from, there is plenty to explore in your own sweet time.