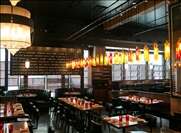 For anyone who's ever visited Burgundy, "RN74" is immediately evocative: this is the (old) official name given to the vineyard-lined highway that bisects the region's wine country. So it is not at all surprising to learn that Michael Mina's restaurant of the same name is also one of North America's best wine restaurants.
Sommelier Jeff Lindsay-Thorsen is in charge of making the selections to match signature Mina dishes such as ahi tuna tartare, roasted foie gras, seared day boat halibut, and Painted Hills steak frîtes au poivre, prepared by Executive Chef David Varley. And like the menu—described as "creative, modern, yet simple interpretations of regional French cuisine" with "local ingredients" and "global influences"—so the wine list Lindsay-Thorsen has created has a cosmopolitan, French-American flavor.
The Pacific North West accounts for much of the American side of the experience, with an unmatched collection of Washington State and Oregon producers. And, perhaps inevitably given the restaurant's name, the Burgundy selection is superb, with a smart set of "off-the-track" lesser known appellations alongside the big-name grands and premiers crus. But there's plenty more to explore, in a clear, concise, good-value list.