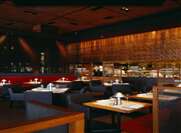 Best Dessert & Fortified Wine List in Australasia
In the restaurant game, it's hard enough to maintain quality in a single venue; ensuring the kind of high standards achieved across seven restaurants as Australia's Rockpool Bar & Grill group have done is nothing short of remarkable.
While there is a formula to the three Bar & Grill outlets (the Rockpool Group also owns the Spice Temple and Rosetta brands in Sydney and Melbourne), and while each has a superb, wide-ranging wine list, so each has its different strengths—with the Melbourne restaurant, according to the Word's Best Wine Lists awards judges, being particularly strong at the sweeter end of the spectrum.
Australia's great contribution to sweet wine, Rutherglen Muscat, naturally plays its part in the selection, with bottles from Campbells and Stanton & Killeen, alongside late-harvest wines from Grosset, Mount Horrocks, Punt Road, and Friends of Punch. But it's the sheer range of global choice that impresses here: fine runs of great sweet German Riesling (JJ Prüm, Dönnhoff) and Loire Chenin (Huet); Sherry from Equipo Navazos and Sanchez Romate; mature Port (Niepoort, Noval Nacional) and fine old Madeira (Barbeito Malmsey 1954). Together they form Australasia's Best Dessert & Fortified Wine List.