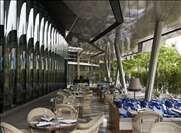 Part of the all-conquering, wine-loving Rockpool group of restaurants, Melbourne's Rosetta Ristorante gives the group the chance to dig deep into a single country: Italy—with a little support from Champagne and some Italianate Australians.
The resulting list must surely be the largest collection of Italian wines in Australia, and one of the best of its kind anywhere. Described, by the World's Best Wine Lists judges as "well and widely chosen," it's a deserved winner of a special Jury Prize for its Italian specialism.
Once those Italianate Australians have set the scene, the list plunges into a long vinous road-trip around the Italian regions and grape varieties, from Petite Arvine in the Valle d'Aosta, to Zibibbo in Sicily.
A set of mini-verticals from Piedmont's and Tuscany's finest is the core of the list, but they don't quite dominate in the way of other Italian wine lists. Sicily and the south, for example, is explored in some detail, and for once broken down by region. But the selection from Friuli is also outstanding, while the countrywide set of dessert wines provides the list with an appropriately varied conclusion.