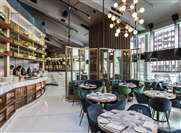 A menu that includes a selection of favorite regional recipes collected from extensive travels through Italy, it charts an adventurous seafood course through crudo, antipasti, pizzette, pasta and secondi.
Meanwhile, beautiful milk-fed veal from southern New South Wales is showcased throughout, punctuating the menu in dishes such as vitello tonnato, veal tartare, osso bucco and cotoletta.
Playful aperitivo cocktails, such as the Cold Drip Café Americano and slushy Sgroppino, usher in a drinks menu that oozes la dolce vita.
Bellinis are a centerpiece, rotating seasonally with different fresh fruit blends.
The drinks list also includes aperitivos, digestivos, a bitters section with five variations of Negroni, classic Italian and local beers, gins and an extensive collection of whisky (and whiskey), grappa, brandies and rum.
Rosetta's wine list is an exploration of the regions of Italy showcasing the classics and some of the more diverse.
Home grown Italian varietals are featured throughout with many local favorites rounding out the selection.