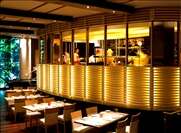 World's Best Wine Lists Jury Prize
The stripped-back approach of natural winemaking has been, depending on where you stand on the debate, either a breath of fresh air or a blast of stale bacterial aromas: divisive in other words. For those who subscribe to the philosophy (or rather philosophies, since there is still no accepted single definition), natural winemaking techniques have brought a new purity of flavor and terroir expression. For those who think it's an emperor's new clothes-style scam, it's been a retrograde step to inconsistency and the risk of dirty flavors.
For senior judge, Elin McCoy, who has no axe to grind on either side, the wine list at Manhattan's Rouge Tomate provides an eloquent argument in favor. Indeed, the selection by beverage director Pascaline Lepeltier MS, McCoy says, expresses "the whole idea of the natural wine debate in the best possible way. And it's been doing it for quite some time."
What impressed McCoy, and her fellow World's Best Wine Lists senior judges, was not simply the depth of the selection of natural, organic, and biodynamic wines, and the way it opens up new possibilities for drinkers, but that it pulls off this trick without being didactic. It's an approach that fits snugly with the restaurant's culinary philosophy: "Flavor first. Despite our dedication to nutrition and sustainability (or perhaps because of it) every bite thrills and delights." And it's an approach that has earned Rouge Tomate a special Jury Prize for its presentation of natural, organic, and biodynamic wine.