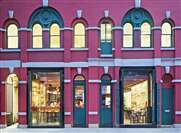 Rouge Tomate Chelsea endeavors to produce a food and beverage menu without compromising the planet or people's health, says founder Emmanuel Verstraeten. The Chelsea-based restaurant in New York City holds these values at its core, whilst maintaining a trendy, playful environment. With a heavy focus on the origins of beverages–covering not just wine but also coffee, spirits, liquor, tea, beer, and other liquids–alongside the increasing emphasis of food principles, Rouge Tomate makes sure to work with responsible producers who are dedicated to the same philosophies.
The venue is passionate about delivering wine, amongst other beverages, that encompass a place, time, and culture in just one glass. To further educate diners, the wine list includes explanations about the disparities between organic, biodynamic, and natural wines.
Heading the wine program as beverage director and partner is Pascaline Lepeltier MS, working with an energetic and knowledgeable wine team. The wine list is far-reaching in its coverage of the world, and pays special attention to North America and France. A section is dedicated to magnums, which includes Santa Barbara Mourvèdre from Dirty & Rowdy, 2013; "Vieilles Vignes de Clairette" by Saint-Préfert, 2009; and Auguste Clape, Cornas, 2011.
Judges commented that the wine list is "eclectic and diverse", that "covers classic and trendy" wines.