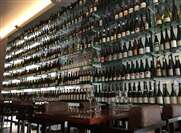 In a gallery-like space in Berlin, Rutz Weinbar could not be more modern or urban in style. But its culinary mission has its roots in the bucolic past: "The rescue of German food culture," is Rutz's motto, which it aims to achieve with its region-specific German cuisine, and its remarkable collection of German wines.
As the judges at the World's Best Wine Lists 2015 said, the typography and design may not place the Rutz list among the easiest to read among this year's three-star winners. But it's worth persisting for its "excellent collection" of German wines.
"We love the way they have several vintages of most wines listed," the judges continued, and they also highlighted the broad spread of regions, with the Ahr, Baden, Württemberg, and Baden all given their due alongside the Rheingau, Rheinhessen, and Pfalz, while the Saar and the Rüwer are given their own sections apart from the Mosel.
With a wide choice by the glass, and plenty of well-chosen options from the rest of the world, this is a superb modern wine list with lots of character and style.