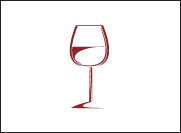 Authenticity is the name of the game at New York City's upscale traditional Italian, Ristorante San Pietro.
It's a philosophy that begins, naturally enough, in the kitchen, or more precisely in the acquisition of ingredients for the kitchen: as Gerardo Bruno proudly boasts on the San Pietro website, the restaurant imports an intriguingly precise 85 percent of its ingredients from Campania, Sicily, Sardinia, and Puglia.
That gives a genuine southern Italian feel to such dishes as Salerno-style homemade pasta with lobster and asparagus in a lemon sauce, or roasted sea bream with braised curly endive stuffed with capers, olives, and anchovies.
The same thinking is applied to the wine list, which is a treasure trove of top Italian bottles, with a particular emphasis on the ever-improving wines of the Mezzogiorno, and supplemented by a selection of classical French and American producers.
It means that San Pietro is the place to come if you want to sample the best Aglianico, Nero d'Avola, Negroamaro, and Nerello Mascalese, as well as being a truly breathtaking repository of mature wines from Piedmont, Tuscany, and the Veneto.