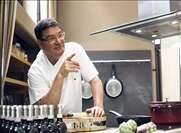 The dessert from which it takes its name is the speciality at Moscow's Semifreddo. And on the restaurant's almost exclusively Italian list, there is a very inviting set of "vini dolci" with which this semi-frozen treat could be served: Quintarelli Bandito Amabile del Cere 1990, perhaps, or Marco de Bartoli Bukkuram Passito di Pantelleria 2005.
There is, however, more to both the restaurant and the wine list than the sweet course. To match a menu specializing in southern Italian cuisine with an emphasis on seafood in dishes such as octopus carpaccio with pistachio, chive, and vinaigrette and cuttlefish gnocchi in fennel cream with vanilla-flavored olive oil, the wine list is one of the best selections of Italian wine outside Italy.
Arranged by region, it includes stars both established and rising, from Sicily's Passopisciaro to Valle d'Aosta's Les Cretes, Veneto's Inama, Campania's Mastroberardino, and a range of vintages from the big boys of Piedmont and (Super) Tuscany.