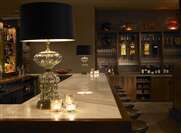 Sydney's Sepia Restaurant—not be confused with fellow World's Best Wine Lists 2015 three-star lister, Sepia in Chicago—is the brainchild of top Sydney chef Martin Benn and seafood wholesaler George Costi of De Costi Seafoods.
Opened in 2009, it's now well established as one of Sydney's finest restaurants, offering up a distinctive culinary philosophy that speaks of the current obsession with seasonality and freshness of ingredients, but does so with a pronounced Japanese accent.
On the five- or nine course tasting menus, that philosophy translates into arresting flavor combinations such as sashimi of yellow fin tuna, jamón Iberico cream, avocado, baby radish, and pork crackling, or David Blackmore wagyu sirlon, grey ghost mushrooms, horseradish, garlic, and ice plant.
The judges at the WBWL 2015 thought the wine list was a perfect match for the restaurant's modern sensibilities, a thoroughly zeitgest-y, globetrotting list that delights in blending the classic with the quirky, featuring Greek sparkling wine alongside a collection of grower and Grande Marque Champagne, and Spanish curiosities such as Listan Negro from the Canary Islands and Galician Caiño, alongside Australian Petit Meunier.