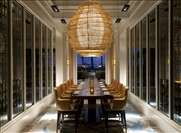 From the succinct set of "Sommelier Selections" and wines by-the-glass that kick off the list, to the cluster of dessert wines from around the world that conclude it, the wine list at Seven at The Ritz-Carlton Grand Cayman is full of diverting, high-quality bottles.
Among the highlights on a relatively short but well-balanced international list is a smart selection of Champagne (the restaurant puts on a tempting Champagne Sunday brunch), with choices ranging from top growers Egly-Ouriet and Jacques Selosse to famous houses Krug and Dom Pérignon.
Collections of top California, Bordeaux, Burgundy, and Piedmont are also chosen with discrimination, and there are choices from Austria, Argentina, Australia, Oregon, and New Zealand to add color to the classics.
Finishing with that eclectic choice of dessert wines—Austria's Kracher Muskat Ottonel Trockenbeerenauslese 2003, Canada's Peller Estates Vidal Ice Wine 2008, Italy's Vietti Cascinetta Moscato d'Asti—it's a list with wide appeal.