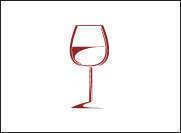 Since its 1972 launch, it has couriered passengers around the globe in glamorous comfort. Adding to this tradition is the airline's wine list. Its experts taste over one thousand wines every year, sampling various vintages under cabin pressure to accommodate the changes in sensory perception while jetting across the sky.
Its rigorous tests ensure success, as illustrated in the airline receiving first place in Best Overall Wine Cellar from the Business Traveller Cellars in the Sky Awards. It also soared away with the gold in First Class Cellar.
While its wine list is dependent on the route, notable vintages take the form of Taylor's Ten Year Old Tawny Port, Taittinger Brut Millésime 2007, and Domaine Laroche Chablis in Business Class. Singapore Airlines also has an invested interest in Bordeaux, and pours through over two million bottles every year. Germany, Italy, North America, France, New Zealand and Australia represent from where they source their wines, and Portugal also offers a port wine.
Its International Culinary Panel is made up of eight world-renowned chefs, all of whom craft their in-flight cuisine to pair with the selected wines.