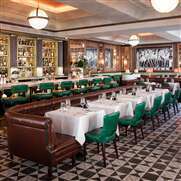 Following its success in some of America's most competitive cities, ranging from New York to Miami, Smith & Wollensky has brought its fine dining steak culture across to London. Situated in the iconic art deco Adelphi building just off the Strand, the interior reflects 1930s architecture with dark wood paneled walls, leather banquettes, and sultry lighting. The restaurant is grand in all forms: two floors of decadent dining space, enormous steaks, and an impressive wine list.
The menu is serious about its steak, showcasing high-quality USDA Prime, dry-aged cuts, and locally sourced premium British and Irish beef, alongside more delicate shellfish platters and crisp salads.
To complement a succulent steak selection is an extremely diverse wine list. Focusing upon its American roots, it is centered on American excellence. Older vintages of Screaming Eagle and Orpus One draw the eye, alongside a vast array of wines from California, Washington, and Oregon. Different from its counterpart restaurants in the US, in London the stellar selection of US wines is joined by a fine range from Europe. The restaurant has two own-label wines: a Non-Vintage Meritage to perfectly partner the signature steaks, and a Sauvignon Blanc to compliment seafood dishes.