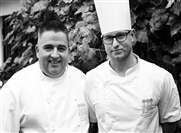 Søllerød Kro is often referred to as one of the most traditional places for fine dining in Copenhagen.
The restaurant is a treat for the wine lovers. Receiving the "DENMARK BEST WINE LIST" award of "The Danish Dining Guide" nine times, it's evident why the wine list at Søllerød Kro is often referred to as one of the best in Scandinavia.
The wine list is extensive with wines from many nations and regions with around 1,500 references and features plenty of burgundy and champagne. Though the list is extensive, each wine has been carefully selected for the restaurant. Sommelier Henrik Knudsen and wine director Jan Restorff often travel and evaluate several wine tastings to decide whether a wine is a "Søllerød wine" and matches the wine list.
Working with the country's top wine supplier, the restaurant can always offer the newest, most interesting and exciting wines to complement the excellent dishes composed of the best ingredients the season offers. The symbiosis of food and wine matched to perfection is one of the things Søllerød Kro is known for worldwide – the excellent service is in a league of its own.
As of 2016, Soelleroed Kro has been awarded 1 Michelin star, for the 10th year in a row. The restaurant was also placed 17th place in OAD Top 100 Classical & Heritage Restaurants in the World (2016) as well as 13th place in "66 Best Restaurants – Nordic Countries" (2016). The White Guide DK named Soelleroed Kro 'The Best Service Experience of the Year' (2016/2017), and the eatery was also awarded 2016 Certificate of Excellence for "Superior Service" by TripAdvisor.