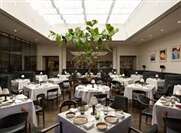 After a major overhaul of both the menu and the dining room in 2012, Wolfgang Puck's Beverly Hills fine-dining institution, Spago, remains at the forefront of American food and wine.
The redesigned menu, created by Puck in tandem with executive chef and managing partner, Lee Hefter, retains the Spago philosophy of cosmopolitan California "farm-to-table" cuisine, with ingredients drawn from the restaurant's garden and local farmers' markets, and dishes such as grilled Sonoma lamb rack, harrisa aioli, falafel "macaroons," and eggplant "caviar."
It also retains its legendary wine list. Overseen by wine director Phillip Dunn, the collection at Spago now runs to some 3,500 bins, a remarkably detailed and all-embracing celebration of the world's wines. You can pick almost any region and find a run of old vintages from an esteemed producer or something exciting from a new rising star. The collection of German Riesling, for example, is truly astonishing, with two pages dedicated to the Rheingau's Scholoss Schönborn alone. But then you get to the California section, and the Burgundy and, well … extensive doesn't begin to cover it. Extraordinary.