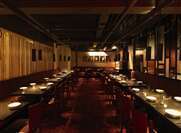 With a culinary focus on China's lesser known regions—including Yunnan, chilli-loving Jiangxi, Hunan and Sichuan, with their citrus-hued warmth, Guangxi and Xingjiang—Spice Temple's a la carte menu is designed to be shared and enjoyed banquet style.
The concise wine list of exactly 100 wines has been designed to complement the regional Chinese flavors celebrated in the menu.
Added to this is the whimsy of the cocktail list: 12 superbly crafted drinks based on the Chinese Zodiac.