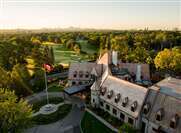 Amid the natural beauty of the Etobicoke district Ontario, lies St. George's Golf & Country Club, with the history of this grand estate to uncover. Much of the focus falls, though, on Stanley Thompson's masterfully designed golf course, which is ranked among the world's best.
Combining its heritage and grandeur with modern design, the club house provides a warm and intimate space for members and guests to retreat to. And it's here that the dining experience unfolds. A seasonal menu of both casual plates and gourmet cuisine exhibit the pride the chef takes in sourcing local ingredients, with some produce even grown in the estate's garden.
Hearty dishes such as braised lamb shank with soft herb polenta and maple roast squash, and grilled Amaranth salmon with edamame, chickpeas and cusabi dressing, are paired with the club's excellent collection of wines.
Having won awards for its extensive wine list, the golf and country club offers a selection that ranges from light and aromatic whites such as a 2014 Riesling Spatlese Donnhoff from Norheimer Kirschheck in Nahe, to full-bodied reds such as a Meritage Wolf Blass 'Black Label' 2006 from South Australia. The World of Fine Wine described this wine list as fine with the right size selection.