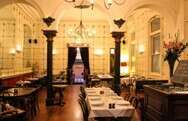 Syracuse Wine Bar and Restaurant is located at 23 Bank Place, on one of Melbourne's famous laneways and tree lined pedestrian thoroughfare.
The dining room evokes a wholly other time and place.
The ornate archways, soaring ceilings and curving chandeliers of a 19th-century hotel lobby create a stunning impression of grandeur, though soft lighting and an assortment of antique tables and chairs keep the mood romantic and welcoming.
Wine bottles displayed in various nooks and crannies hint at Syracuse's vast and varied wine selection, which the food menu is designed to match.
Syracuse's wine list celebrates the greatest wines that Australia and the rest of the world have to offer.
It is driven by integrity and passion.
From the vineyard to the glass, they aim to provide guests with the most diverse range of wines of varied and carefully chosen vintages.
This wine list is a humble homage to a selection of artisan and emerging boutique wineries as well as well-established and respected producers of exceptional character and individuality from wine regions around the world without forgetting the classics.