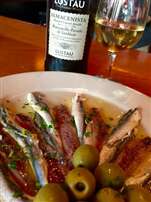 Since 1998, Taberna de Haro has been serving the authentic cuisine of Spain, with a unique wine list to accompany it.
The list has slowly grown to 315 different labels, with an inventory of approximately 3000 bottles, making it one of the largest all-Spanish wine lists in the USA.
There are 85 different sherries; 20 are available by the glass.
Chef–owner–Sommelier Deborah Hansen received her sommelier title in Spain and brings her passion to guests each day.
She holds monthly staff training for servers and loves watching their growth, their palates and their ability to express themselves.
The vibe at Taberna de Haro is friendly but quite reverent about wine.