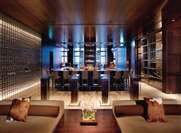 Step into the culinary science lab of Tapas Molecular Bar with head chef Ngan Ping Chow. Residing in its exquisite location on the 38th floor of the luxurious Mandarin Oriental hotel Tokyo, Tapas Molecular Bar presents a theatrical dining experience for an intimate group of just eight diners per seating, a restriction that makes this Michelin-starred restaurant even more exclusive.
Chef Ping worked alongside executive chef at Mandarin Oriental Hong Kong Uwe Opocensky to polish his now-renowned molecular cooking skills, which are what make this restaurant really stand out.
Dishes are served in a tapas style, where the chefs prepare an adventurous meal where each plate brings new surprises with a thought-provoking juxtaposition of textures and flavors. With objects transforming and liquid nitrogen gliding across the table, Tapas Molecular Bar offers a playful and interactive way of dining with finesse.
With innovative and tapas-style dishes such as these, pairing a wine list can prove challenging, however the wine team has put together an "exemplary" list, according to our judging panel. There is a strong French wine selection in addition to an indication of biodynamic and organic wines.
"Classic but international, lovely depth and breadth," said the judges. There is a variety of formats available, which favors the scope of the Japanese and Western fusion cuisine.