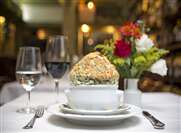 Taste-Vin is a small, upmarket, regional French food bistro where wine is as important as food.
Since first opening their doors in January 1988 they established high standards for food and wine, and are amongst the most awarded restaurants in the area.
They emphasize French wines by offering exclusive imported labels, a key point that attracts consumers.
They have a wide range of wines from small, independent winegrowers and producers from different countries.
Over recent years they have added a series of lower cost wines, responding to consumer trends.
The list has four sections: House Selections, with roughly 12-14 well chosen wines that offer very good value, some of them by the glass; this is followed by Champagnes and Sparkling Wines; then Selection of Great Wines, with some of the great, classic wines of the world; and the fourth section with a listing of wines from different regions in all price ranges.