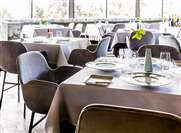 A winery seeped in history and tradition, Ten Minutes by Tractor is a culmination of passion, insight, and dedication to memorable wine. These accolades are exemplified in the three-star award level that it has achieved in the World's Best Wine List since 2015.
Founded more than thirty years ago, its estate hosts three vineyards that are imbued with their own traits in regards to soil, altitude, and slope. Although unique in character, they share the estate's scope in being a mere 'ten minutes apart by tractor'.
As such, the fruits of their labour render wines that harmoniously indulge the palate.
Martin Spedding collaborated with his restaurant's head sommelier Jacques de Beauregard to create what judges describe as an "outstanding" wine list, and one of the best in Australia.
Spedding and Beauregard have thus curated a wine list of roughly 400 wines. This list is no doubt a testament to the estate's success with varieties. Dominating this selection are superb Chardonnays and Pinot Noir. However, additional highlights include an inspiring array of grower and Grande Marque Champagne, an impressive selection of Burgundy, and imaginative selections from all over the USA, Europe, South Africa, and New Zealand.