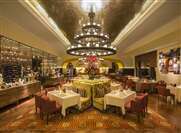 Italian cuisine has always been a combination of art and taste—Terrazza Italian Restaurant is a champion of this combination.
Accolades include its listing as a one-star restaurant in the Michelin Guide 2017 and as 'Golden Q' by Ospitalita Italiana 2015–2016, living up to the highest standards in Italian hospitality.
The restaurant selects the freshest ingredients from around the world, and time-honored recipes are served with beautiful presentation and great taste.
Signature dishes include: Italian-style roasted suckling pig, slow-cooked veal loin, paccheri pasta in spicy pork sauce.
In addition to the exquisite cuisine, the restaurant's cellar is a wine lover's paradise.
A special area of the restaurant is dedicated to wine, hosting celebrity sommeliers who impart expert knowledge on perfect Italian food and wine pairings.