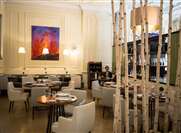 Central London Michelin-starred fine-dining venue Texture was started by Icelandic chef Agnar Sverrison. Sverrison also owns a small chain of wine-led bistros in the form of 28-50, and the venture that first made his name not to mention a firm favorite for the capital; however it was Texture that took him one step further in the London dining scene.
Sverrison's intricate, graceful modern cooking is an important part of its appeal, with stylish dishes such that endeavor to be full of flavor but light cooking with a healthy viewpoint; something likely to have been drawn from his Icelandic heritage. Sverrison also imports as much Icelandic and sustainable produce as possible, sourcing top ingredients like cod, lamb, langoustines, and skyr.
The wine team is expertly knowledgeable, and always on hand to point you in the right direction. The careful curation of the wine list is clear, and judges of the World's Best Wine Lists 2017 commented that the list was, "Clean-cut, but chosen with conviction".
The wine list is highly commendable, receiving an esteemed three-star award. It opens with a superb collection of Riesling, featuring a roll-call of the world's best proponents of the great white grape, from Alsace, Germany, Austria, the USA, New Zealand, Slovakia, and with many an older vintage. Pinot Noir is covered in a similarly detailed and passionate way, and the long, varied list continues on its merry, intelligent way from there.