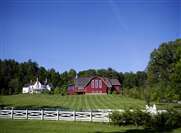 Set in the heart of the farmstead is a turn of the century bank-style barn, and here we find Blackberry Farm's much-lauded restaurant. Custom chairs, antique-style linens and sterling silver all capture the essence of farm dining in the South.
Nestled among the Smoky Mountains of eastern Tennessee, Blackberry Farm is a rural idyll, playing host to one of America's finest luxury hotels—in turn featuring one of the country's best-loved and most respected restaurants, worthy of its supreme praise at this year's World's Best Wine Lists Awards.
The Barn at Blackberry Farm (recently joined by a second, more casual restaurant, The Dogwood), is a refined, fine-dining restaurant that aims to "express the essence of our food from the farm and South, though not necessarily 'southern food.'" The ingredients are sourced regionally or grown on site, only meters from the restaurant where they'll be consumed.
The Barn's creative cookery is well matched by a superb modern wine list, containing over 9,000 selections. It is a list that the judges praised for its breadth and depth in all styles, hailing its equal panache in the coverage of the Old World and the USA.
Described by our judges as "a phenomenal list that is a joy to explore" and a "wonderful variety and a half-bottle selection to die for."
Joining its accolade for Wine List of the Year, the judges noted too the superb layout and elegant typeface, naming The Barn Best Designed Wine List of the Year.