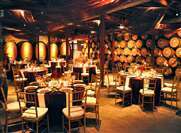 The Barrel Room Works to a simple concept: to showcase the cuisine, wine and spirits of the world's diverse regions.
The rotating menu focuses on countries and geographical areas and changes every four months.
Wine director and sommelier Sarah Trubnick delves into the wines to complement the menus' focus, crafting an extensive lists featuring over 60 wines by the glass, arranged into educational tasting flights for those who want to explore.