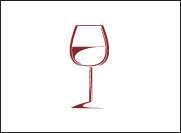 In the Yorkshire town of Ilkley, The Box Tree offers stylish, classical French cuisine under the guidance of owners Simon and Rena Gueller.
The husband-and-wife team picks out roast sea scallops, celeriac puree, and white truffle oil as their signature dish on a menu that is also noted for its soufflés, while Scottish loin of venison, braised red cabbage, roasted sprout leaves, and Cumberland sauce is another à la carte highlight.
The wine list is simply and crisply presented but filled with interesting choices. It opens with a selection of Sherry and a page of highlighted selections that acts as a short list for those diners who don't have the time or inclination to browse the full list, and which includes intriguing choices from Cahors, Gaillac, and Bierzo.
The full list is similarly well thought-out, mixing an impressive set of Bordeaux and Burgundy (including several affordable choices from up-and-coming producers as well as a set of wines from Domaine de la Romanée-Conti) with pedigree choices from the New and Old World alike.