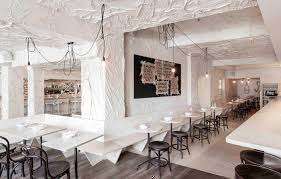 Since 2016, Maurice Terzini and Icebergs Dining Room and Bar snapped up Surry Hills' Dolphin Hotel while on the market. It has since gone from strength to strength, with a new-look space being unveiled some eight months later.
Now split into a three-tier venue, The Dolphin Hotel Wine Room sits alongside the public bar and dining room. Run by James Hird, it boasts 150 bottles, 35 by the glass and a separate menu to match – including foie-gras crackers and vin-jaune risotto with mushrooms from Chef Sam Cheetham. Other notable dishes include soft-grilled octopus comes with poached potatoes, twice-cooked pork belly with beetroot and truffle and crab spaghetti.
With some walls laden with black and white graffiti by Bulgarian artist Christo, and others completely bare or draped in crinkle fabric, it is evident that The Dolphin Hotel features more personalities than one – and a unique look you certainly won't forget.