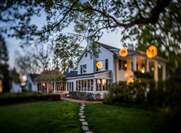 The Fearrington House Restaurant's wine list is extensive, catering to novices, aficionados, and experts alike.
It contains hidden gems and notable small producers from up-and-coming regions.
Producers are carefully sourced to ensure different price points to encompass a broad range of wine styles.
Wine pairings and flights are also available for guests who want to diversify from their usual choices.
For an establishment located in a small town in North Carolina, the Fearrington House Restaurant's wine and spirits list is comparable to three-Michelin starred restaurants from larger markets.
This charming and quaint countryside restaurant belies what its wine list contains—a world-class selection of beverages.
World's Best Wine Lists Awards judge Luciana Girotto said it was nearly "perfectly composed and precise in detail".