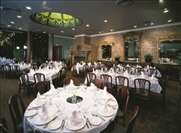 With more than a half-century's experience behind it, Sacramento's The Firehouse is a venue that is comfortable in its skin. Which is not to say it's complacent or lacking in ambition. Executive chef Deneb Williams' menu is an exercise in Californian modernity (The Firehouse dubs it "California Nouveau Continental Cuisine"), with a menu based on ingredients from local suppliers, and given an international spin: think miso-glazed pork belly or chimichurri sea scallop.
Featuring 2,100 labels and 25,000 bottles in total, the wine list is similarly bold and broad in scope. California leads the way, and it would be hard to find a better place to make a tour of the leading AVAs: its range of Napa Cabernet alone is worth the detour, and it also boasts the largest restaurant collection of wines by Alexander Valley's peerless Silver Oak. There are Californian treasures, too, in The Firehouse Vault, where a set of older vintages from the likes of Harlan and Screaming Eagle lay alongside rare old Bordeaux such as Château Latour 1940.
Strong as it is with these collectible treasures, however, the list is not all cult Cabernet and claret. As clever choices such as Emiliana Coyam 2008 from Chile's Colchagua Valley or The Escarpment Over the Edge Pinot Noir, Martinborough 2010 show, this is a list with genuinely broad appeal.